Disclosure: This post was sponsored by Paula's Choice via Pretty In My Pocket. As always all options are my own."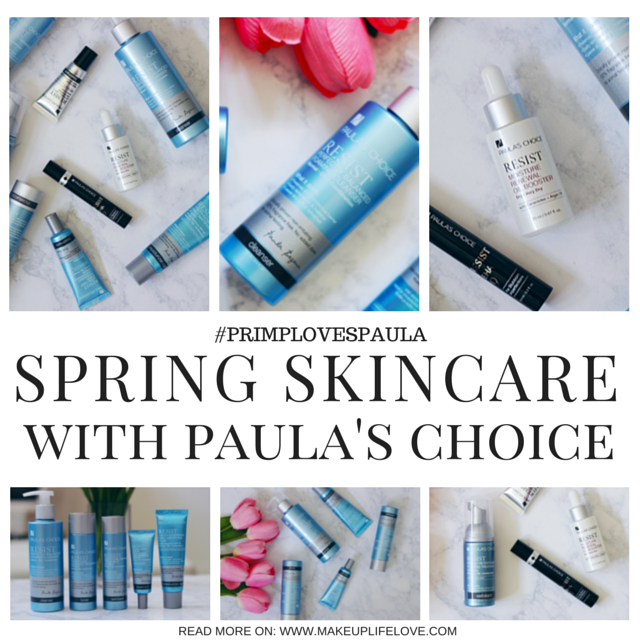 Over the past few weeks- about five weeks to be exact– I feel like I might have my skincare routine; dare I say it-down pack. A streamlined AM and PM thanks to Paula's Choice routine seems to be something as of late I have been turning to the same products time and time again- guess that might be the creature of habit in me. Now you know around here I am a HUGE skincare freak, time and time again I test, try and use many oils, toners, cleansers and what not. My skin as of late has been a bit too finicky for my liking, and a combination of wacky weather and crazy hormones have been making my skin SCREAM. I for one and NOT a fan of the random freak out sessions I have been having lately. So lets jump right in and see what my skin has been obsessing over lately…
Paula's Choice Skincare is a brand that is slightly newish to me. I mean I have heard a few of my best beauty blogging buddies in the blogosphere try and rave about how amazing this ultra affordable line is, but I just never got around to testing it out. That is until now, and lets just say my skin is OBSESSED! Paula's Choice is a line that started with a commitment to customers and education of the skin. They thrive on being the skincare line that you can feel confident about buying and using. Whether you have acne, oily skin, rosacea, large pores or just overall dull, dehydrated skin- they treat it all. And trust your skin and your complexion will love it. This line is cruelty-free, non-irritating, fragrance-free line literally will help transform your skin. I started off by having a phone call with a super and by super I mean SUPER knowledgeable Paula's Choice consultant Jaime who was so helpful. She asked me about my skin concerns, skin type and texture and from that she helped pick out a skincare regimen that would suit all my needs and concerns. If you ever have the chance, I HIGHLY recommend talking to one of the skincare experts to learn more about the line and get a quick and easy consultation on your skin type. It is worth it BIG TIME!
THE AM ROUTINE:
First things first, lets talk a bit about the AM. If you are like me you have probably stumbled out of bed, pillow marks etched into the skin, dark circles and maybe even a slightly puffy face action going on- it really is a great sight- ha ha ha. Anyhow, if you are like me the first thing that helps you get going and start the day is a good face cleansing. For me the morning routine is all about achieving a bit of a dewy, radiant, I am still not asleep sort of look. The night for me is all about repairing, hydrating and healing the skin. Now there are a few products that have a bit of overlap as they can be used for both day and night, I call these my multi miracle workers. But lets start with the AM regimen. I have been reaching for the Paula's Choice RESIST Perfectly Balanced Foaming Cleanser–$18 USD. This cleanser is seriously all sorts of AWESOME! I take one pump in the morning and massage gently into my skin. The cream turns into a light foaming cleanser. I grab a damp washcloth and wipe away the night, and pillow marks. This stuff is seriously perfect. This little AM massage is just a nice slice of heaven in the morning, it leaves the skin feeling super moisturized and clean. It doesn't feel stripped at all, just perfectly balanced and ready to take on the day. I follow the cleanser with the Paula's Choice RESIST Weightless Advanced Repairing Toner–$23 USD. I apply the toner to a cotton pad and gently stoke it all over the skin. For me I often take my warm hands and do a bit of additional patting of the toner into my skin. It feel super nice on the skin, and doesn't smell like other toners. It's like the perfect prep before the amazing layers of radiance get added to the skin.
Moving on to the next step of exfoliating. Now I am not going to lie, I never though of exfoliating in the daytime, I guess a part of me always thought that it was best to save exfoliation for the PM. However I have been reaching for Paula's Choice RESIST Daily Pore-Refining Treatment with 2% BHA. This ultra gentle exfoliate is what dreams are made-is there such a thing? Applied to the skin with a cotton pad this exfoliator is perfect for ALL OVER the skin even the eye area. This exfoliant removed the old skin cells on the surfaces, unclogs the pores all while repairing signs of aging while stimulate collagen and smoothing out the skins wrinkles. TIP: Applying your eyes cream after the exfoliator, but before the serum you are helping the eyes have a powerful punch of moisture. After the exfoliant I have been grabbing the Paula's Choice RESIST Ultra-Light Super Antioxidant Concentrate Serum–$34 USD. This serum is ultra light almost as if it is water on the skin. It is a unique blend of high concentrations of powerful antioxidants such as Vitamin C. The serum is paired with skin-repairing ingredients like hyaluronic acid to help protect, nourish and repair the skin from sun damage and signs of aging. Followed with Paula's Choice RESIST Youth-Extending Daily Mattifying Fluid SPF 50– $29 USD. This moisturizer is amazingly light and super fluid on the skin. I let it soak into the skin for a few minutes before applying my usual makeup routine. Now depending on my skin, I have been applying the moisturizer either by itself when things feel just right. OR I have been applying the moisturizer with a drop or two of the Paula's Choice RESIST Moisture Renewal Oil Booster– $35 USD when my skin is feeling a bit dry and dehydrated. This stuff my skin LOVES and literally craves it. I already have a back up ready and waiting for when I need it.
THE PM ROUTINE:
For the PM my routine changes up just a little bit. You know the drill: Cleanser, Toner, Exfoliator, Serum followed with Paula's Choice RESIST Anti-Aging Skin Hydrator– $29 USD. This product is so gentle and light that you don't even realize you are wearing a nighttime moisturizer at all. This powerful blend of antioxidants and skin repairing ingredients that helps renew and restore the skin all while allowing it to appear younger, more even in tone and fresh. The best part about this hydrator is that it contains lactoperoxidase to help eliminate breakout-causing bacteria- bye bye blemishes. Same as the daytime I have been adding a few drops of the Paula's Choice RESIST Moisture Renewal Oil Booster– $35 USD when my skin is feeling a bit dry and dehydrated. At night paired with the Hydrator it is almost like a intense hydrating sleeping mask. I LOVVVVEEEE it!
THE ADD ONS:
Now when my skin is feeling a bit on the ultra spotty side, I have been grabbing INSTANTLY for the awesomeness in a tube named Paula's Choice RESIST BHA 9 Treatment– $40 USD. Now this is a bit on the pricey side, but I seriously cant seem my skin without it. Backup ordered and ready for when I run out. This treatment might actually be a slice of magic. Lately I have been suffering from those huge under the skin suckers, that never want to come to a head, but want to bother you, irritate you and HURT under the surface. When my skin is feeling a bit spotty I have been loving this awesome BHA9, I have been getting some of those huge suckers that are under the skin and hurt. You know they ones I am talking about. I dab a bit of this on the spot and literally it will heal your skin overnight. It's a bit of a miracle worker. One weekly product that I have been reaching for is the Paula's Choice RESIST Weekly Retexturizing Foam with 4% BHA– $35 USD. Now this weekly exfoliator is amazing. You apply it once a week at night after toning and cleansing and literally one pump of this goodness will cover your enter face, neck and chest. It is a ultra light texture of a foam that turns almost into a water. It is perfect for helping stop breakouts in there tracks and helps balance out oily skin. One last product in this super wordy post is the Paula's Choice RESIST 25% Vitamin C Spot Treatment– $55USD. This super powerful treatment kicks all those pesky stubborn brown spots and past acne marks to the curb. I mean 25% is AWESOME as this concentrate is ALL stabilized vitamin C. Within a week of using this on old spots they have started to fade and diminish. TIP: When using a Vitamin C product YOU MUST use a SPF anytime that you will be in the sun. This stuff is seriously powerful and ultra amazing.
So there you have it a long winded post full of amazing new skin bits. I also have a post coming soon of the awesome MUST HAVE Paula's Choice Brush It On Contour Palette– $36 USD– stay tuned for that. Back to the skincare I am seriously IN LOVE the regimen that I am using right now. My skin loves it and overall after the past five weeks my skin is starting to feel balance, even and overall just healthy. Paula's Choice RESIST Skincare Line seriously is awesome, and has made a HUGE difference in my skin. I think I may have found the routine for me-pats oneself on the back.

NOW loves, I have something seriously awesome for you in the form of an AWESOME discount and a PHENOMENAL giveaway. First things first, right now you can SAVE 20% off + FREE SHIPPING on any one product from Paula's Choice– I recommend the BHA 9 Treatment especially if you are like me and suffer from the under the surface suckers or the Moisture Renewal Oil Booster if you are in need of some instant hydration- CLICK HERE before placing your order- your link will automatically be activated. The next AWESOME perk is a great one. Paula's Choice has been so SUPER kind and is offering one lucky winner a FULL SKINCARE REGIMEN! Yep you heard it right, a WHOLE skincare regimen tailored just for you. All the details to enter are below in the rafflecopter widget. Good Luck Entering, Happy Tuesday Everyone!
Have you tried Paula's Choice? Let me know what are your favorite products below in the comments I am always open to new recommendations.
*PR SAMPLE
This post was sponsored by Paula's Choice via Pretty In My Pocket. As always all thoughts and opinions are my own.