A big thank you to Ulta Beauty for sponsoring this post. As always all thoughts and opinions are of my own.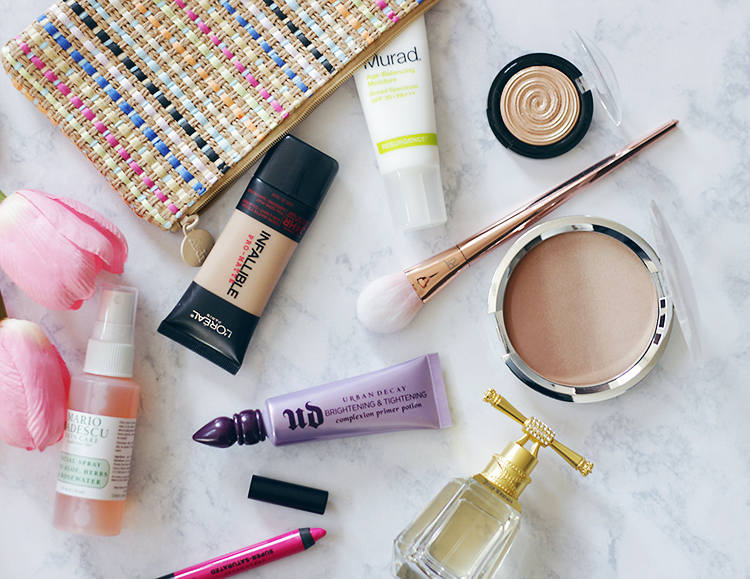 Is it just me or is it so damn HOT outside lately? If you are living in Southern California then you know we ALWAYS have to have our summertime beauty products on hand. Today I have teamed up with Ulta Beauty to bring you a roundup of my favorite products for the ultimate summer seasonal edit. Serving you three simple ways to protect skin, replenish the skin, and some solid simple tips to strobe the summer away into the impending fall season. So sit back and get ready to spruce up your beauty bag, as we get ready to talk about venturing from summer beauty into the fall and how to achieve cashmere skin. So bring on the bronzed eyes and berry lips, please….
PROTECT THE SKIN
When it comes to protecting the skin the one thing that always come back around is to APPLY SUNSCREEN to the skin. Sunscreen is a pure necessity to anyone going on travel, spends a lot of time in the sun or under any UVB and UVA rays. The downfall when it comes to sunscreen is usually that it leaves a white-streaked gloopy mess. However after much research I have found a few sunscreen gems that don't leave a goopy mess.
For the face a great sunscreen that I am loving also doubles as a moisturizer, thanks to the Murad Age Balancing Moisture Broad Spectrum SPF 30, this stuff ROCKS! Nourishing and hydrating since the sun can more then often cause major havoc and drying, this moisturizer leaves the skin perfectly perfect. Healthy skin with a side of protection has never been easier. If you are not one to want to blend a moisturizer with a sunscreen and like to keep things separate then my long time favorite is La Roche-Posay Anthelios 50 Mineral Ultra-Light Sunscreen Fluid­ this stuff is what sunscreen dreams are made of. An easy shake of the bottle to mix up the fluid, and this sunscreen is so ridiculously amazing I would bath in it. It so super light it literally feels like nothing is on the skin at all. It goes on easy like a moisturizer and absorbs into the skin so quickly. It is a MUST HAVE in your daily regimen for sure. You can keep things ultra light by finding a base with a SPF as well- a few favorite options are It Cosmetics Your Skin But Better CC+ SPF 50 or a drugstore budget find is the L'Oreal Youth Code BB Cream both are perfect coverage options all while giving the skin some solid skin protection. What more can you ask for? 
[otw_shortcode_divider margin_top_bottom="30″ text="SHOP SKIN PROTECTION" text_position="otw-text-center"][/otw_shortcode_divider]

TIME TO REPLENISH

In the summertime skin needs some extra hydration and causes havoc on the skin. Besides making sure you drink LOTS of water to keep the body hydrated from within, I have found that mid day my skin tends to feel a bit on the dry side and in need of a outer drink of hydration. I have been reaching for Mario Badescu Facial Spray with Aloe, Herb and Rosewater, this stuff is the perfect mid day MUST HAVE to help hydrate the skin. A few spritzes of this facial spray and within minutes your skin is hydrated and your makeup instantly is refreshed to perfection. Another amazing option is the Coast- to- Coast Coastal Ultra Soothing Aqua Mist– this stuff is perfect for days when skin is feeling a bit on the sensitive side. An awesome blend Sea Kelp, Wild Rosella and Organic Lavender this facial mist help sooth and calm any redness as well as helps rebalance skins sensitivity. Just grab and toss in your bag, trust me you will be looking forward to that mid day refresh- its like a dose of ahhhhh in minutes.  [otw_shortcode_divider margin_top_bottom="30″ text="SHOP TO REPLENISH" text_position="otw-text-center"][/otw_shortcode_divider]


GET YOUR STROBE ON
Highlighters lately have done a solid 180 from what they were a few years back. Chunky glitter, disco ball anyone? Thankfully the new highlights have become a fine milled, sheer, skin perfecting radiance that makes the skin look like- magic a la that J.Lo glow we all strive for. Last year the rage was highlighting and this year a new technique is coming about- in the form of STROBING. What is this strobing you ask? Well long story short, strobing is basically a new fancy word for light highlighting. Innovative, right? Amazing how things get new fancy words. This summer a few of my favorite strobing additions have been BECCA Shimmer Skin Perfectors, simple and beautiful strobing all at your fingertips. Not too much shimmer- despite the name- but they are the perfect mix of glow and laminator. I really like this Becca Glow to Go Kit, because you get three beautiful shades of this cult product all in a concealer like wand that allows perfect placement for the glow. Another good one this summer has been the It Cosmetics CC Radiance Ombre Bronzer. This beauty is perfection for those who are looking for a healthy contour with a side of strobing. Sun kissed skin with a double wash of sheer perfection is what is in this summer.   To strobe and contour it is super simple- to contour just take a light bronzer to the areas that the sun would naturally hit. A super light dusting of bronzer under the cheekbones to help hollow in the cheekbones, apply a bit under the jaw line, and on both sides of the temples- instant light contouring-check. To strobe just add a brightening shade to the areas you want to enhance and add some glow. Usually the areas that are most popular are the top of the cheekbones, down the center of the nose, above the cupid's bow and a light grazing at the center of the forehead. Light, bright and luminous is the way to summer strobe into the fall.
[otw_shortcode_divider margin_top_bottom="30″ text="SHOP STROBING" text_position="otw-text-center"][/otw_shortcode_divider]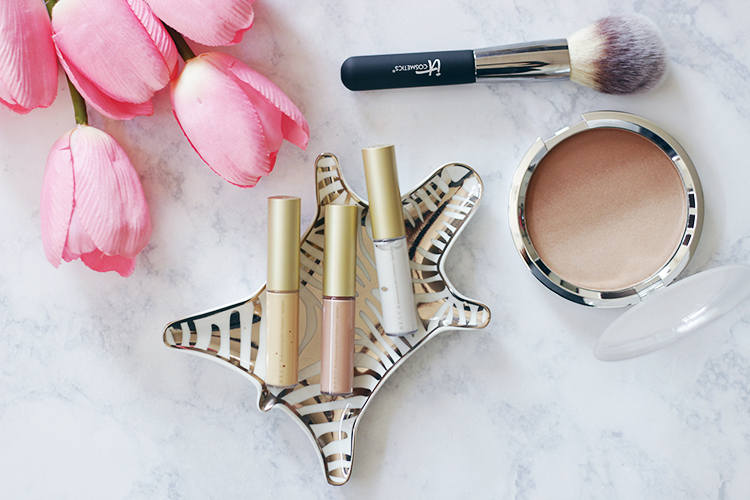 So there you have it, a few simple tips and tricks to help protect skin with sun protection, replenish the skin with a mid day spritz of ahhhh, and to help get your summer glow on with a bit of strobing and contouring. What is your favorite way to get ready for Fall? Have you started to embrace strobing?
To see more tips and tricks follow Ulta Beauty via social media and see other Fall trends and tricks by searching hashtags #UltaTrendAlert and #StyleHunters4Ulta
A big thank you to Ulta Beauty  for sponsoring this post. As always all thoughts and opinions are of my own.