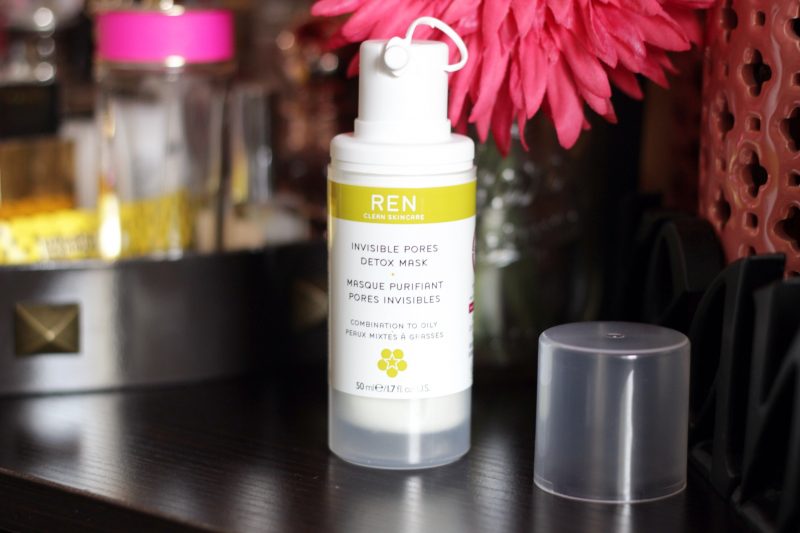 Oh my oh my face masks, hands down they are probably one of my favorite skincare steps EVER! Something about a good mask, just feels me with glee. In my current skincare staple, face masks seriously have a spot in my heart bigtime, and make a HUGE improvement in my skin. Congested skin, dehydrated skin, even dull, lackluster skin-  you know I have a mask for it. So lets discuss one of my current favorites recently. REN Skincare Invisible Pores Detox Mask…
REN Skincare Invisible Pores Detox Mask– $34 USD, is something that is ooooh so good. Its offerings are phenomenal, and my skin seriously loves this mask. Part deep cleansing, one part clay with gentle action. This Kaolin Clay mask doesn't strip the skin, and works some serious wonders on the skin. Blemishes, congested skin and enlarged pores have meet their match, cause let me tell you this mask conquers all and then some.
As of late my skin has been having some solid hormonal issues- a la chin breakouts, so needless to say this mask has become a hero lately. Clay masks are regularly on my radar as they do some serious work on my skin. Whenever the skin looks uneven, a bit lumpy or shows anytime of stress- this mask keeps the skin under control. I am on my 3rd bottle of this great stuff, as the Kaolin Clay has really helped deep clean and purify the skin, and helping the skin rid of dreaded blackheads-  thankfully!
Formulated for combination to complexion problem prone skin, this mask aims to help heal and reduce the appearance of breakouts and even the skintone. I have even found this mask to be useful as a spot treatment at times, lathered on just the right spots. Wait about 15 minutes until dry and voila the skin is left smooth and almost with a a bit of a 'awwwwwwwww' moment. Used on a weekly basis I can honestly say the skin is looking clearer and the pores are looking quite smaller. You know what they say: happy complexion, happy girl.   Say hello to clear skin!