This post may contain an embedded affiliate link. For more information please check out my disclosure policy.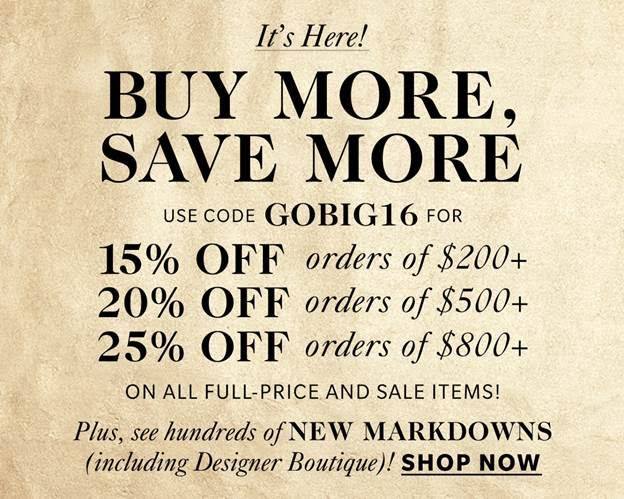 It's the most wonderful time of the year… who else agrees? I mean what more can be better during the year than breaking out the infamous red Starbucks cups, crisp cooler weather (although we don't see much of it in SoCal- one can keep hoping) but of course, it is the BEST sale of the year. Drumroll…… It's time for the SHOPBOP BUY More, SAVE More Sale! I mean we all LOVEEEEEE a good sale, right? So grab yourself a drink and get ready to shop the SHOPBOP BUY More, SAVE More Sale– trust me there are some GREAT gifts up for grabs! Here are a few of my favorite picks this year…

GIFTS FOR HER UNDER $50
When it comes to snagging gifts under $50, SHOPBOP has some of the best gifts EVER!!! Lately, I have been on an organizing trip, and so many people asked me for a few tips, this cute acrylic holder is perfect to keep your bathroom countertop organized and handy with your most reached for items.  Another awesome thing I recently discovered in my organizing master plan was that I have WAY TOO MANY CLOTHES! So I have decided to take the less is more approach to my closet wardrobe and this book has been a lifesaver. I mean who else wants to curate their closet for success? Hand raised high! I don't know about you guys but I am ALWAYS on the lookout for a cute cup or travel mug- this travel cup is perfection- besides who wouldn't want cake for breakfast?
THE PERFECT HOSTESS GIFT
This year, holiday party invites are almost overwhelming- with so many friends celebrating the holidays in their new first homes, the party invites are through the roof. Luckily I have a few perfect ideas for hostess gifts-  because who comes to a pre-housewarming/Christmas party empty handed? Candy is always a GREAT option, and Sugarfina NEVER disappoints,  for the hostess who LOVES to throw parties, craft and be creative this book is the perfect gift, of course a cute travel bar set is always a must for those long flights that come with the holidays, and of course this gold pedestal dessert tray is to die for and works perfectly with this beautiful pink martini pitcher– Holiday entertaining has never been so easy!
PERFECT GIFTS FOR CO-WORKERS
I no longer work in a Corporate office, so co-workers for me now are far and few since becoming a full-time entrepreneur- however, my co-workers now include- photographers, close blogger friends, and design clients at times- but these gifts work perfect for the Corporate world as well. I am OBSESSED with always finding cute mugs for co-workers. Most people drink coffee or tea, and this mug is perfect for both. A great notebook for all the great ideas you may come up with is also a MUST HAVE! I have praised this book before, and let me just say the MAC-N-CHEESE recipe is the BOMB! Trust me a co-worker will come in the office thanking you for this book, and last but not least this cute picture frame helps showcase fond memories of friends and family. Plus having pictures around in your workspace help make it more like a second home. It's the perfect co-worker gift!
Hope this helps with your SHOPBOP Buy More, Save More sale– I know I have a few goodies on my list, and maybe a few gifts for others! Just kidding these are all for others!  Remember the sale starts NOW and ends next Monday, November 28, 2016at 11:59 PM PACIFIC STANDARD TIME (PST). Make sure you stock up and grab all your goodies and be sure to use GOBIG16 at checkout to save on all your goodies. If you aren't sure if something you want is on sale or available for a discount, then read ALL the exclusions HEREHERE!
Are you shopping the SHOPBOP Buy More, Save More Sale? If so let me know in the comments below what you are buying…
**Please note this post includes an embedded Affiliate link. This means if you click on the link and purchase an item, I will receive an affiliate commission. Makeup Life and Love at times reviews products provided by PR companies. This is disclosed at the bottom of those posts and product is marked with a "*". Regardless if the product was received, I only recommend products and services that I personally use and believe will benefit my readers. All opinions are my own. For more information please visit the Disclosure Page**