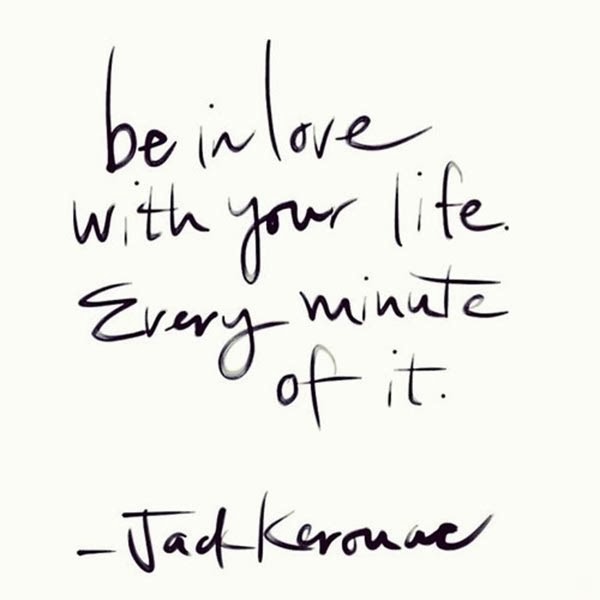 Think about this quote for a few minutes, what does it really mean to you?  When someone says "Be in love with your life"- have you ever looked back and thought to yourself 'well sure I love my life; but….'
But….., usually tends to be one of the first, most single handed thing we often think about and it usually ends with a excuse. Especially when we sit back and think DO we really 
love
 our lives? I know I am very guilty of this- I often say "Oh, I love my life- but I really wish I was able to sleep in daily, and wake up to do what I love. If that was possible, then I would truly love my to think about life". But would I really? Or would I just sit and think of some other "but" and make an excuse as to why I am not 'loving my life- every minute of it'?
After last week's 

introduction to the series

: Wishful Wednesday's // Mid -Week Inspiration; I started to think a lot about things in life. Even though Wednesday's are a considered a mid-week hump, I am trying with all my effort to change my perspective and my attitude on life.  Last night, I took a bit of quiet time, I relaxed and meditation on what this week's inspiration would be. For some reason the quote above just stuck in my head.
This Weeks Inspiration:
"Be in love with your life. Every minute of it"
Think of things and ways to love every minute of your life. Stop comparing yourself to others, or looking at others and what they have; and learn to appreciate what YOU have. Stop thinking that someone's life you see on social media is glamorous and perfect. Stop comparing and wishing to be like that person.  You never know what someone else had to give up, in order to obtain what they have.  If you can't be content with what you have in life, and what you plan to accomplish- then you will never be content with what you get. You will always, ALWAYS be thinking of what else you need to be happy. So take this moment to love your life daily, be grateful for what you have- whether it is the long commute that you have to work  or the time off to follow your dreams. Whatever it is- follow your dreams and love your life.  You only have one- so its best to live it to its fullest!!!  Just remember no one will love your life for you.  
YOUR FUTURE BELONGS TO YOU!!!
So what will you do this week to love every moment of your life?