Disclosure: This post has been brought you via a direct Rodan and Fields representative. All thoughts and opinions about the products and my experience are all my own.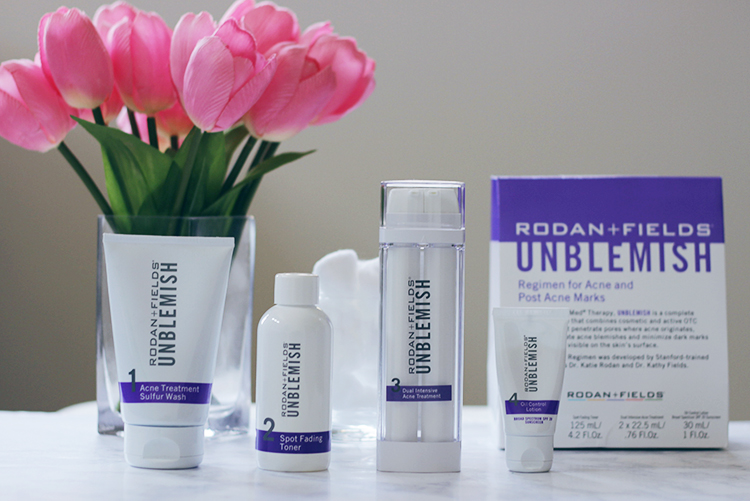 I know what you are all thinking, 'More skincare Jamie, really?' but in all honesty with the random skincare product review about a new product I have been trying to incorporate into my routine, I really haven't given you all a skincare update. With good reason that it, I swear- you see I have always been one of those people that when I recommend something in the complexion caring realm I want to make sure it is REALLY good, and I mean really good. I mean when it comes to product testing in the beauty world cleansing water to remove makeup, or a new beautiful blush are just so much easier to test- give them a few days and you can tell whether or not it is a yay or neigh, however a full blown skincare overhaul- now that is a different story for sure. The whole love it/hate it process can take months- hence the delay in the skincare regimen update, and while I am still testing this one, right now the results are just too good to not report my findings. Trust me you are going to NEED these products when I am done…
Let's do a quick drill down on the state of my face. About a month ago or so, I ran out of my Paula's Choice skincare and literally I kid you not within a few days of running out, my skin had a MAJOR freak out session. Literally you guys- spots EVERYWHERE, redness, dry spots and of course since I am horrible picker- dark spots and discoloration as well. So when I was given the chance to try out a skincare routine that would help cure the spots and breakouts from my friend Renee and Rodan + Fields representative, I was instantly intrigued and couldn't wait to get my hands on these miracle products she spoke of. In order to find out what regimen my skin needed, Renee told me to utilize the Rodan + Fields solution tool, this tool is a super simple questionnaire that helps determine which regimen is best for your needs, concerns and skincare type. After taking the questionnaire, I found that I needed the UNBLEMISH line ­$171 USD. The UNBLEMISH regimen contains four key products that are supposed to help take control of your skin and stop those pesky unpredictable breakouts in their tracks all while healing previous dark spots, inflammation and any previous hyperpigmentation. This stuff sounds to good to be true, right?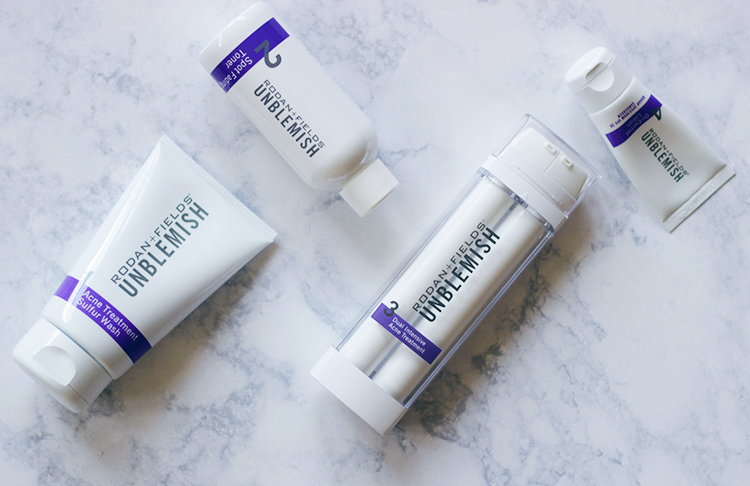 Well this stuff is AMAZINGNESS, so let's jump right in. I told Renee the results of the solution tool consultation. Within a week Renee sent me the UNBLEMISH regimen as well as pre-prep mini facial regimen that I was to use before starting the UNBLEMISH regimen. Let's talk about this mini-facial for a minute, OMG this is on my list of NEED to buy ASAP. The mini facial consists of three key products and steps:
First you massage the ENHANCEMENTS Micro Dermabrasion Paste–$78 for a 4.2 fl oz.- into dry skin for 30-60 seconds (avoiding the eye area for sure). You can have even gentler exfoliation if you have sensitive skin by adding a bit of water to the fingertips. After manually massaging for 60 seconds max, you rinse skin thoroughly and pat dry. (This product is SOOOOOO GOOD).
Next you use the REDEFINE Night Renewing Serum Capsule– $90 for 60 capsules, and apply all over the face patting into the skin The renewing serum capsule contains a unique blend of retinol and peptides to help improve the skin's texture and reduce the wrinkles. It also has a pretty cool time release technology infused into that helps increase the skin's receptivity throughout the night without causing any irritation.
Followed with the REDEFINE Lip Renewing Serum Capsule-$90 for 60 capsules, and apply to the lips. This product helps smooth and moisturize the lips all while reducing the appearance of lip wrinkles. When it comes to facials, many people often forget that the lips take a tool against time and the environment. This stuff literally is so hydrating, and when awaken in the morning my lips seemed noticeably fuller and softer. Instant LOVE affair!
So the after I complete the mini facial I was anxiously ready to start the next morning and begin to test out my UNBLEMISH regimen. So let's talk about the skincare additions that have been changing my skin for the best.
I'd describe this facial wash as a formula that is a mixed blend between a cleansing balm and a foaming cleanser. The UNBLEMISH Acne Treatment Sulfur Wash is a medicated blend that contains 3% sulfur to help penetrate pores and control blemishes all while reducing redness. The formula is a thicker cleanser that literally you can feel deep cleaning the skin without over drying the skin at all. I use this first thing in the morning while giving the skin a nice 60 second massage to help deep clean the pores, followed with a through rinse off. This stuff leaves my skin – oh-so-baby soft, I love it.
This product is one of those products that you never realize your skincare routine is lacking until you go a day without using it. The UNBLEMISH Spot Fading Toner is a alcohol free toner that contains 2% hydroquinone to help lighten the pesky dark spots. It also contains the salicylic acid to help remove dead skin cells, clear the pores and prepare the skin for serums and moisturizer. I literally love the toner, it is so light weight on the skin without leaving a film like residue like other toners can. The best part is it doesn't burn or leave skin dry at all. And I am pretty positive that this toner has literally changed the texture of my skin, leaving it so soft and smooth.
Now this product my friends, I am OBSESSED with BIG TIME. I mean the UNBLEMISHED Dual Intensive Acne Treatment is like serum gold in my eyes. It has a dual chamber that helps deliver the maximum amount of 2.5% benzoyl peroxide into the pores all while helping ensure that the development of new acne or blemishes won't appear. Oh y'all this product is seriously rocking my world majorly. I love the pump down action of the dual chamber- I do each side 2 pumps both morning and night, and literally apply to the skin. This acne treatment is very serum like as it absorbs into the skin so quickly. I have noticed a HUGE difference using this that my skin actually LOVES it, and NEEDS it. Its like a serum and hydrator in one, all while ensuring the skin is protected from pesky future spots.
A blend of both zinc oxide and titanium dioxide to help give the skin a bit of SPF 20 protecting from both UVB/UVA rays, this lotion is super light weight and so non-greasy that you wouldn't even notice you are wearing sunscreen. The UNBLEMISHED Oil Control Lotion is formulated with a time-release system to help reduce clogged pores and mattify the skin throughout the day. I use this only in the daytime, as there is no need to use it in the PM since it has a SPF in it. My skin feels hydrated and smooth and never greasy with this. I really like this oil control lotion and love that I can even top it with a bit of extra sunscreen if needed to add extra SPF protection.
Woah nelly, is that a rave or what? Fast forward a month and half, my skin is literally in the best condition that it has been in months. I can't wait to see how amazing the results are after the 3 month mark as recommended by Rodan+ Fields when using any of the regimens. The appearance of my skin thanks to the Rodan + Fields UNBLEMISH regimen has been that of the most positive move for my skin. I can't believe I am sharing this picture because my skin was in some majorly bad shape, but as you can tell from the before and after my skin is SOOOOOOOO much better. Let's just say the appearance of Rodan + Fields on my skincare shelves will be growing- bye bye blemishes!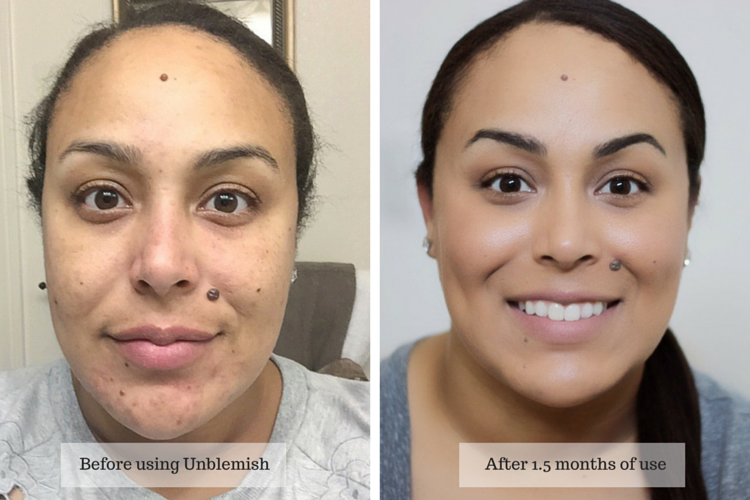 So don't those before and after picture make you want to learn more? Or you just want to test out your own mini facial- I highly recommend- YOU will be HOOKED- if so, leave your information below in the comments or CLICK HERE to reach out to Renee. She is awesome you guys and so knowledgeable about this amazing product line. TRUST ME YOU WILL want it all! You can also find Renee on Facebook HERE. 

Disclosure: This post has been brought you via a direct Rodan and Fields representative. All thoughts and opinions about the products and my experience are all my own.
*SAMPLE provided
[ReviewDisclaimer]