Today's post is sponsored by Walmart and Rewardstyle. As always, all thoughts and opinions are my own!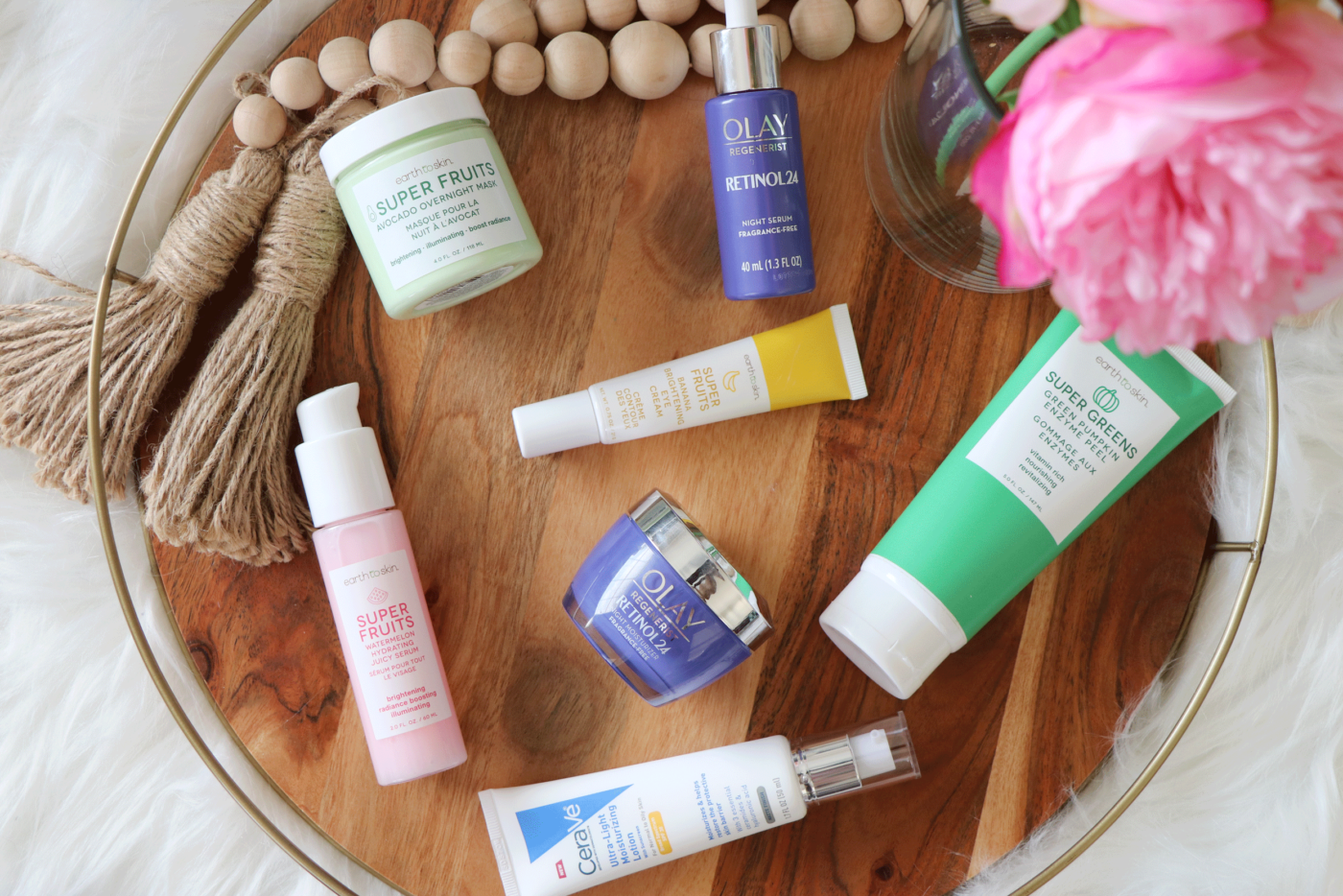 Real talk! How often do you change up your skincare routine? Every season? Every year? Or Never? Today we are chatting all about my current Affordable Anti-Aging Skincare Routine for Fall…
One of the biggest questions I have been getting asked lately from you guys, is "What is a great affordable anti-aging skincare routine that is not only effective by simple?" Well, today I am partnering with Walmart to share some of the best new skincare options that are both affordable and effective they offer. Did you know that Walmart offers a wide variety of skincare buys that include cruelty-free, clean and vegan options? As I was cruising through the aisles, so many of my favorite brands like DERMA E started popping out to me. Including one new brand that is making its way as a solid staple in my classic list of skincare favorites. The best part? You can find ALL of these options on Walmart.com and Walmart stores. 
Let's jump right into my current Affordable Anti-Aging Skincare Routine for Fall, shall we?  
// FIRST THINGS FIRST //
When it comes to my skincare concerns, a few of my major skincare concerns for my combination to oily skin are as follows:
Dark Spots and Hyperpigmentation 
Fine Lines and Wrinkles 
Acne-Prone // Combat breakouts
So all of the products that I grabbed are to help combat not only my skincare concerns but also help prevent the concerns. And since Fall is officially here my skin being finicky as it always sometimes also gets a bit on the dry side, so I tend to also incorporate more hydrating products as well as cold air and wind can tend to dry the skin out a bit more. Trust me – your skin will thank you if you add hydrating products into your regimen. 
// CLEANSER // 
So I used to be a big believer that it really didn't matter WHAT cleanser you actually used on your skin. However, over the years I have been proven wrong with that- and one cleanser that I tend to grab over and over again is the CeraVe Hydrating Facial Cleanser. Not only is this cleanser perfect for ALL skin types it also helps give the skin some much-needed hydration (yes oily-skinned gals also need some hydration). This cleanser contains both hyaluronic acid to help give/ retain some much-needed moisture to the skin as well as ceramide 1,3, and 6-11 to help restore, cleanse and hydrate the skin's protective barrier. 
// TONER //
Now you guys know I love a great toner, and DERMA E is one of my top favorite brands. I have to admit this toner is seriously amazing. Not only is it alcohol-free (super important) it also helps gently exfoliate and tone the skin to give you a  brighter complexion. It contains both Rosehips Extract to help revive the skin and Glycolic Acid to help remove dead skin cells – basically leaving you with gorgeous and glowing skin. I am hooked.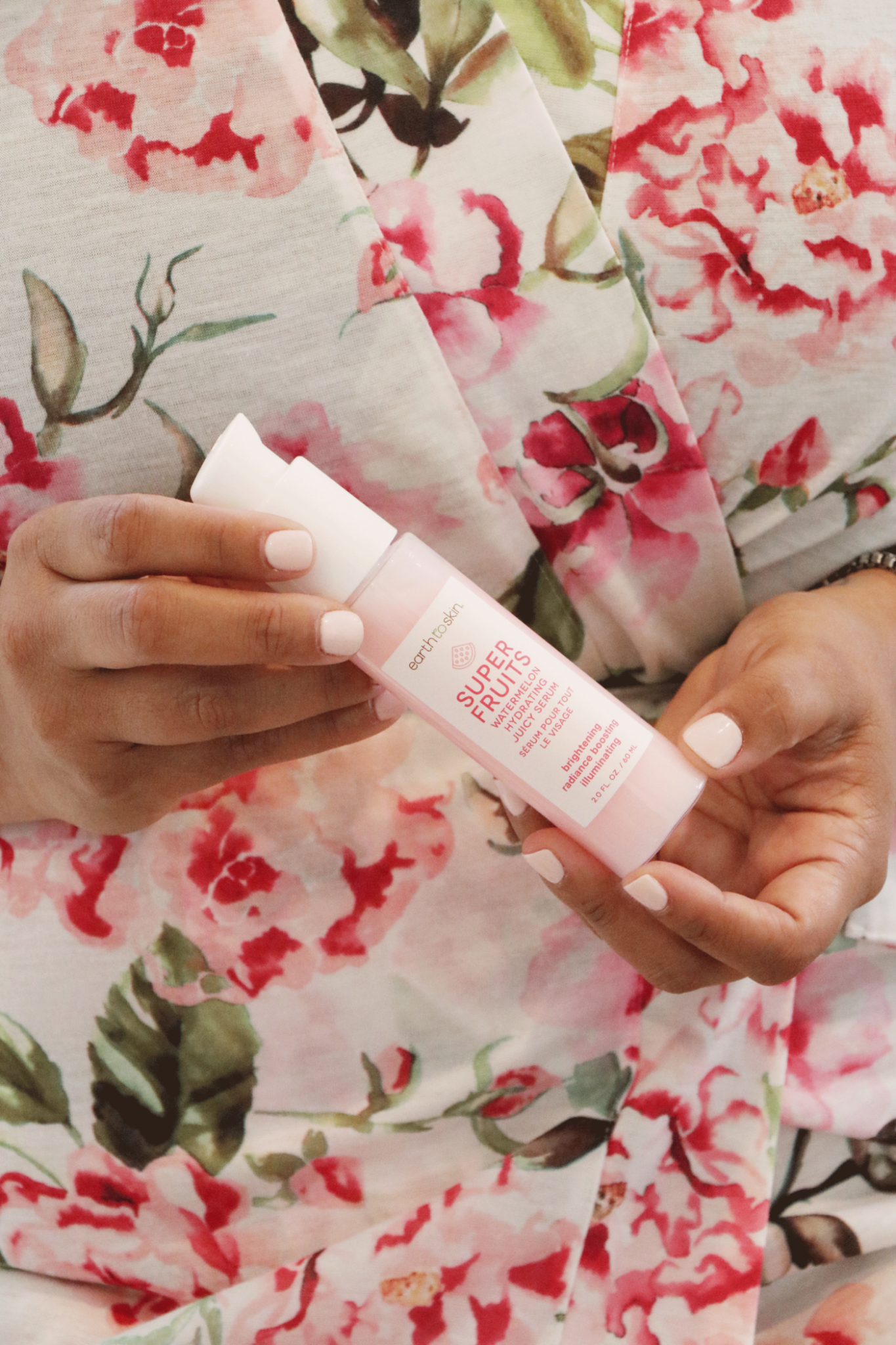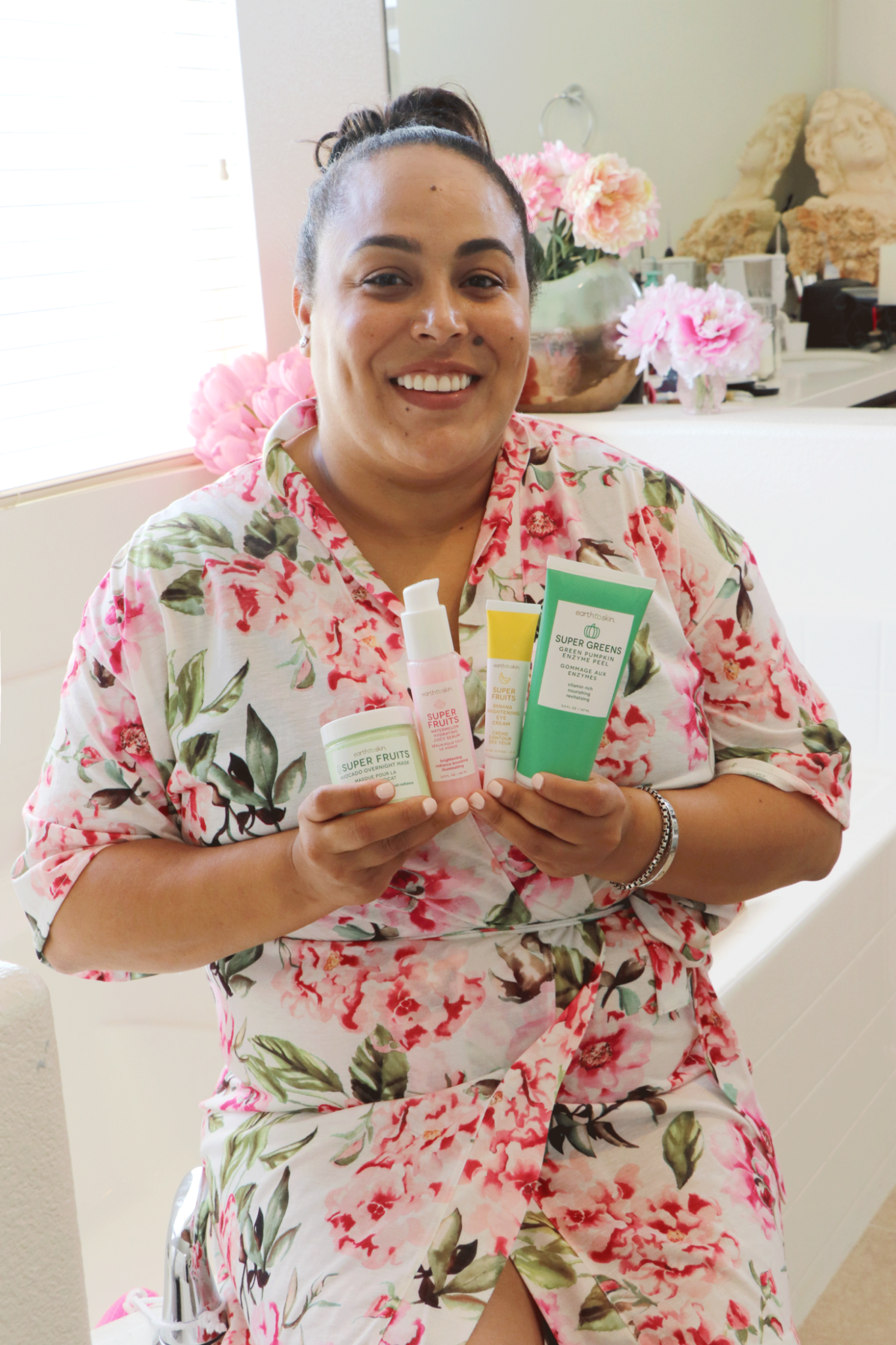 // SERUM //
Serums are probably my top favorite thing when it comes to skincare if I am being honest. Not only are serums potent and effective but I personally feel they are the start of a skincare routine. Walmart launched its own clean skincare brand and you guys I am HOOKED!  The first time I ever used the Earth to Skin Super Fruits Watermelon All Over Serum, my skin was instantly in love. Not only does it give the skin some instant hydration but it also contains a perfect blend of Vitamin C (you know I love an antioxidant), Vitamin B6 and other antioxidants. This serum gives your skin the perfect radiance boost it needs and leaves skin feeling hydrated and refreshed. Trust me it is SO good and UNDER $10- win-win!
// DAY CREAM + SPF  // 
When it comes to moisturizers lately, I have been looking for something that can multi-task. So for the daytime, I have been reaching for my tried and trusted CeraVe Ultra-Light Moisturizing Facial Lotion SPF 30. This stuff is amazing. Not only does it give you much-needed moisture thanks to the hyaluronic acid and ceramides in it but it also contains SPF 30 in it.  Usually, I am not a fan of moisturizers that contain an SPF since they can almost be too ashy on my medium tan skin, but this one is perfect and glides into the skin effortlessly. If I am feeling I need some extra SPF since I am going to be outside I tend to grab my Neutrogena Hydro Boost Gel Moisturizing Sunscreen Lotion SPF 50. Not only does this SPF help protect my skin from harmful rays it also doesn't leave a white film at all. It's seriously AMAZING!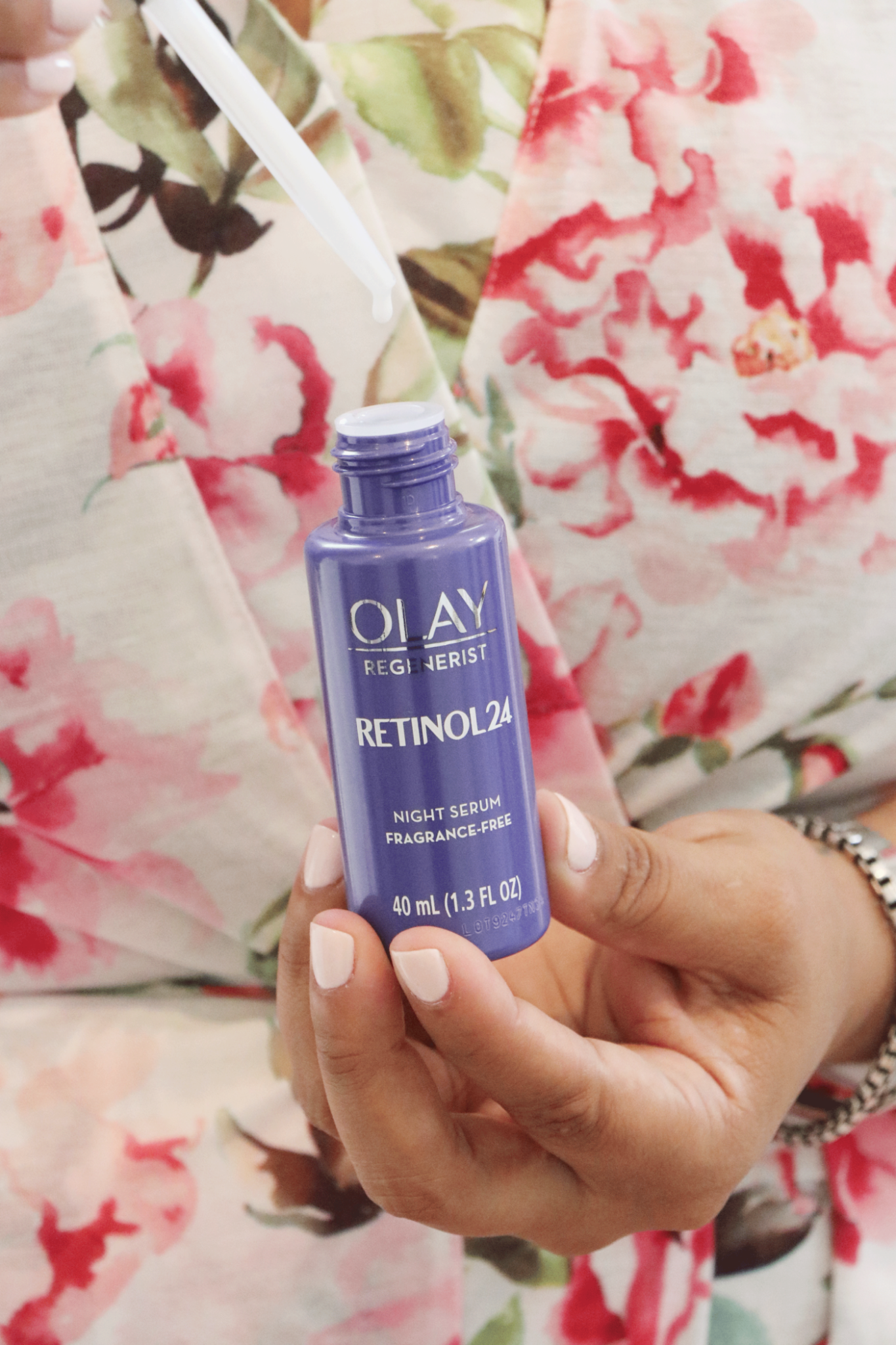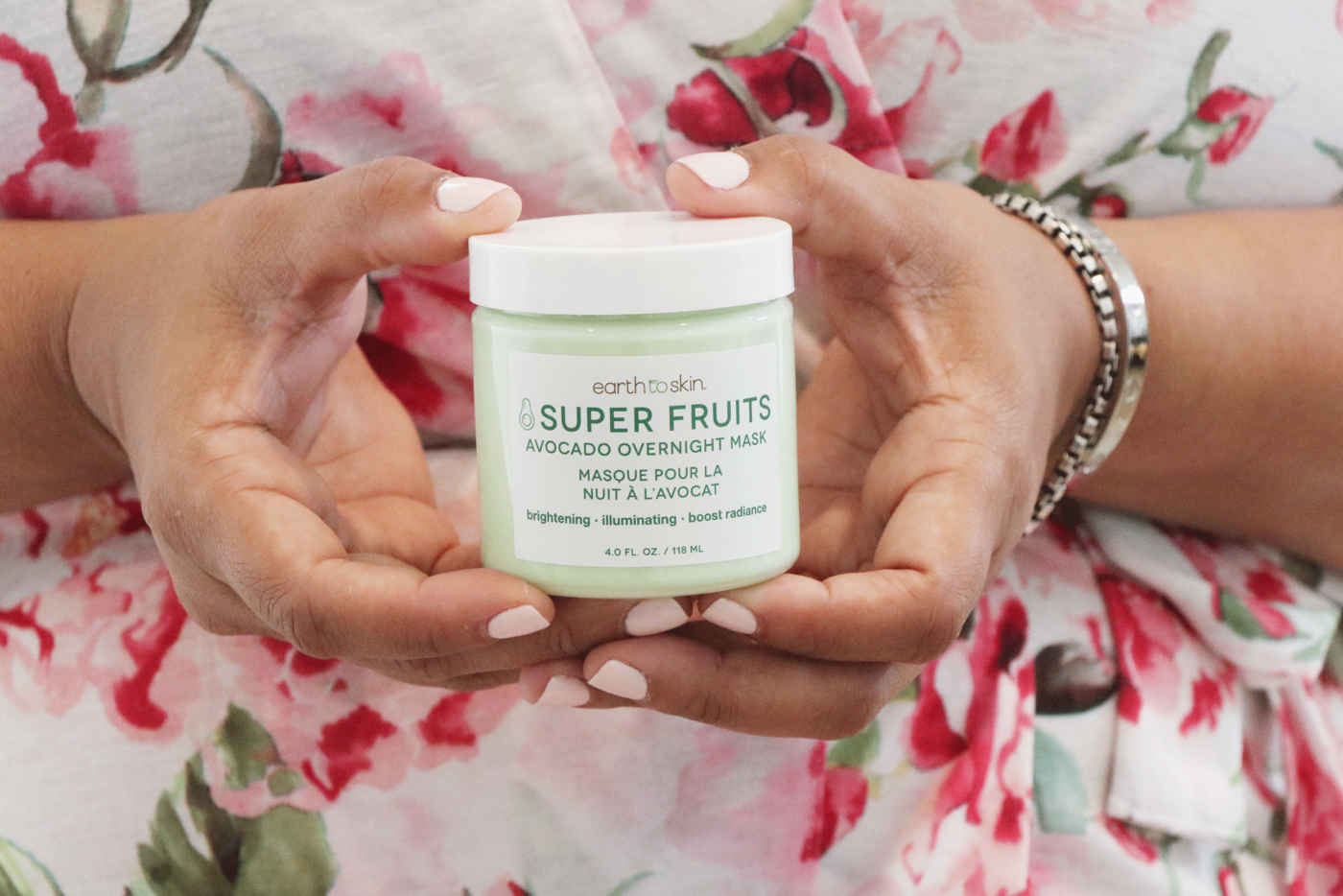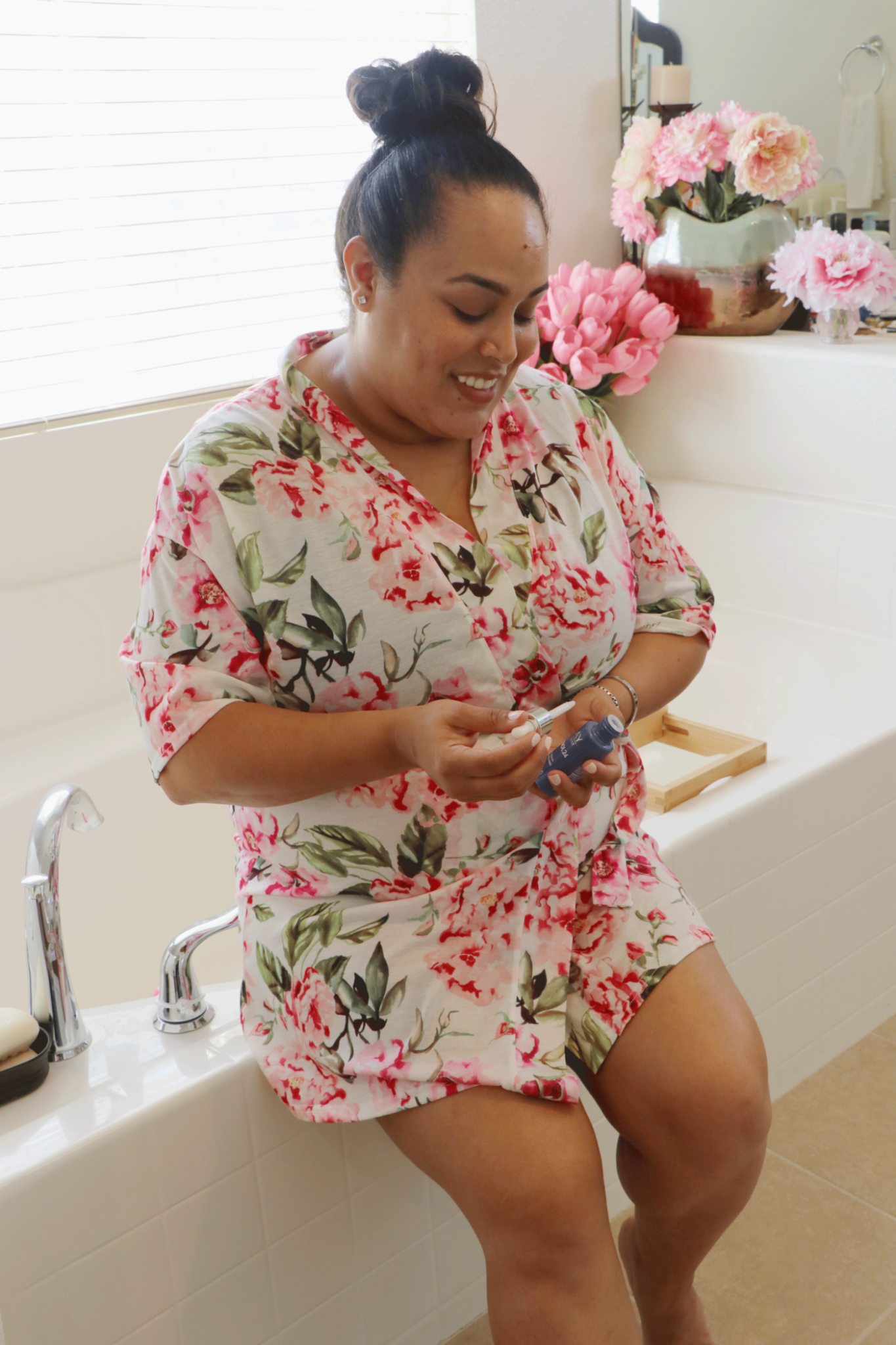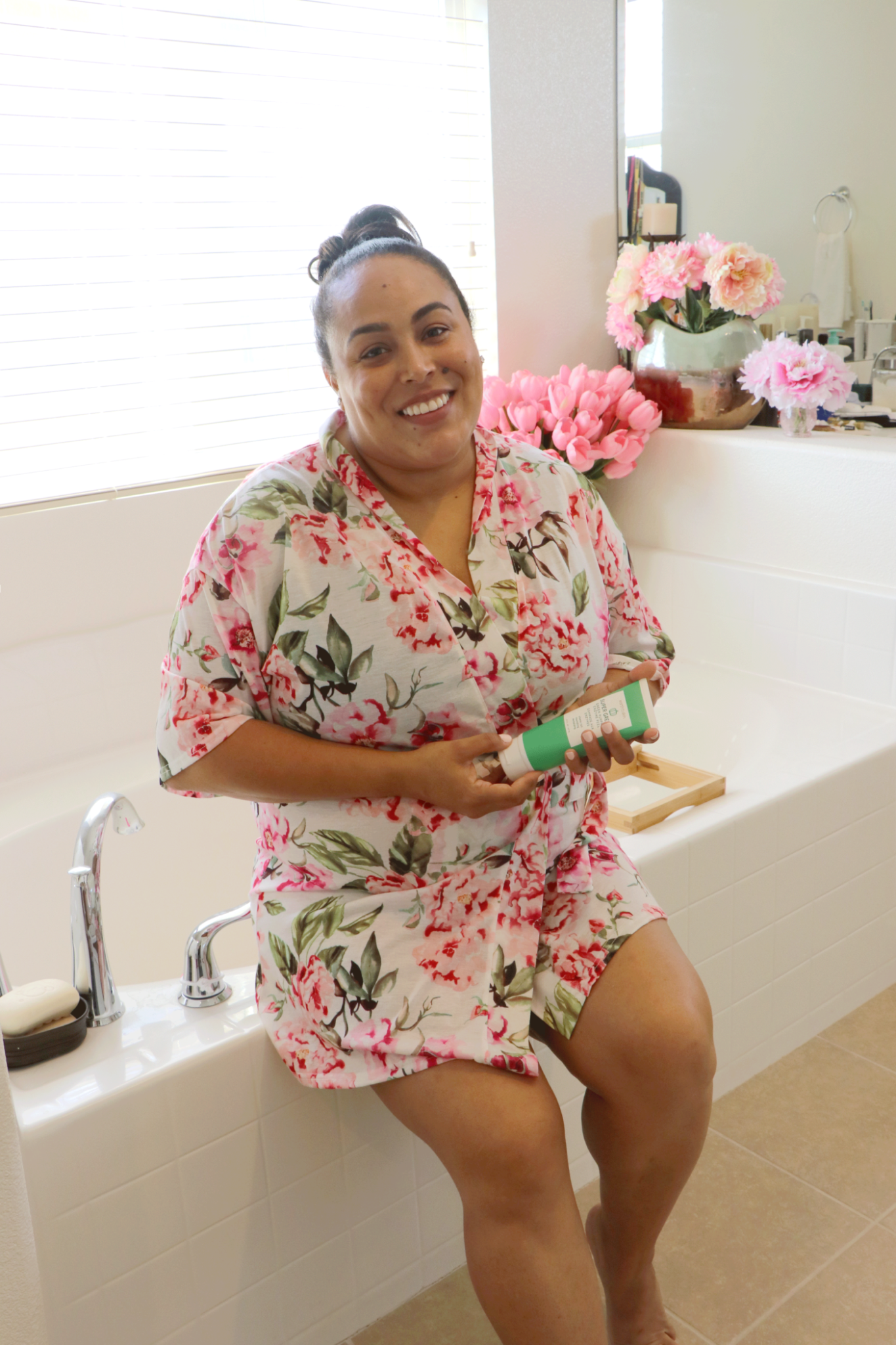 // NIGHT CREAM // 
What would a great skincare routine be without a great night cream, and since you know I like products that multi-task I am OBSESSED with the new Olay Retinol 24 line. The Olay Regenerist Retinol 24 Night Facial Cream is seriously what dreams are made of. Thanks to a unique blend of Vitamin B3 (one of my faves) and a retinol complex this night cream helps tackle fine lines and wrinkles, brightening the skin, combats dark spots and pores all while NOT irritating your skin as some retinol products can. I love Olay a ton, and this product just furthers my love for them and this effective night cream.  Seriously it is SO good- you will see visibly brighter, more youthful skin in just 28 days with continuous use. 
// NIGHT SERUM //
What can I say I love a great serum, so what would and affordable anti-aging skincare routine be without an anti-aging serum? Since you already know I love Olay, it should come as no surprise that I am reaching for the Olay Retinol 24 Night Serum. Like the moisturizer the night serum gives the skin 24-hour benefits of hydrating, brightening and combating all the things. The serum is so lightweight and perfect and when paired with the night cream it gives the skin a 1,2 punch of goodness. I highly recommend this and the best part? Right now Walmart has an awesome deal going. If you grab the Olay Retinol 24 Night Serum and Olay Retinol 24 Night Cream together you can SAVE. Sounds like a win-win, right? Younger looking skin and saving a bit of money- LOVE!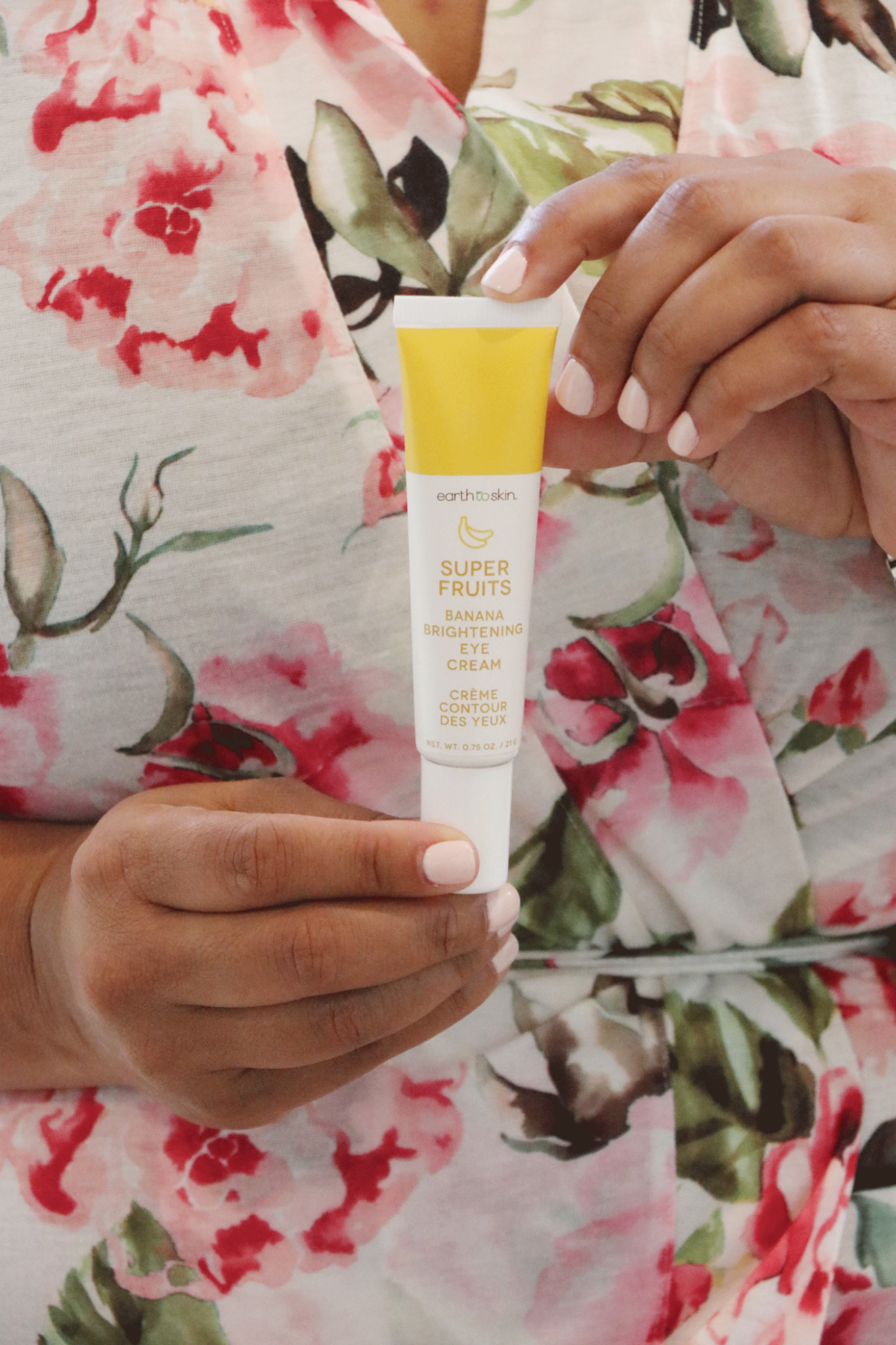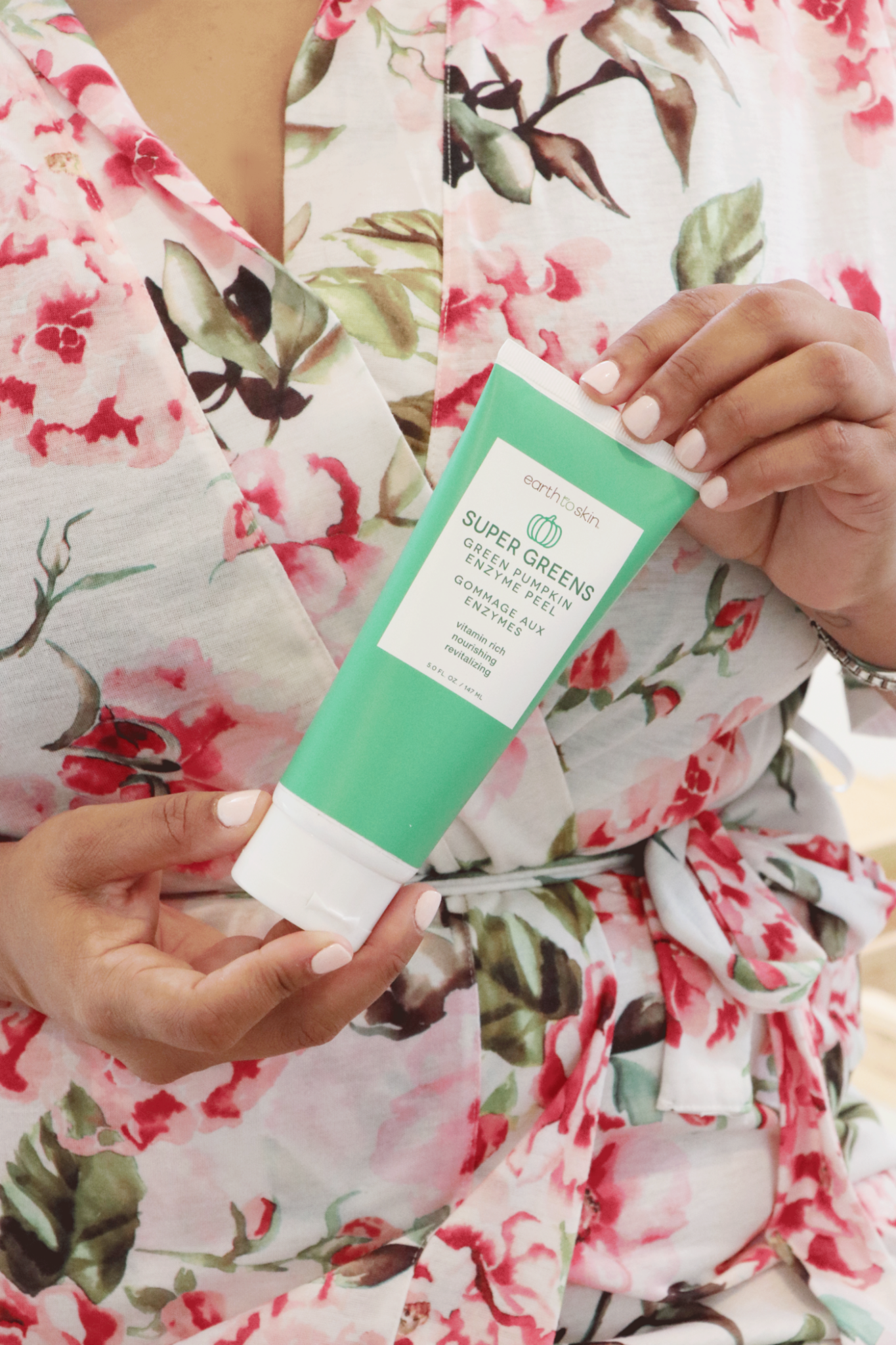 // EYE CREAM //
I feel like no skincare routine is ever complete without a great eye cream. I have been on the hunt for a great one and I am sooo happy that I ran across the Earth to Skin Super Fruits Banana Brightening Eye Cream. I am SO impressed with this eye cream as it is super creamy and lightweight but also feels like a luxurious cream on your eyes. It also helps diminish dark circles (which I totally can use) thanks to its Vitamin A, B, C and E as well as Squalane and Shea Butter.  I noticed that after applying this eye cream my eyes not only looked brighter but also hydrated making this the perfect eye cream prior to makeup application- since it helps my concealer stay in place- which is a HUGE win. No one likes creasing concealer, right? 
// OVERNIGHT MASK // 
I love a great mask, and sometimes my skin especially the colder and winder SoCal tends to get- my skin needs extra moisture. On nights that I feel my skin can use a bit of an extra dose of oomph- I have been LOVING the Earth to Skin Avocado Overnight Mask. Not only does this mask gives your skin a deep dose of moisture it literally leaves your skin feeling hydrated and glowing in the morning like you just stepped out of a facial thanks to its blend of Avocado Fruit Extract, Vitamin D, Vitamin E, Potassium, Beta Carotene, and Shea Butter. It's so light on the skin and sinks in like a dream come true- giving you brighter skin almost instantly.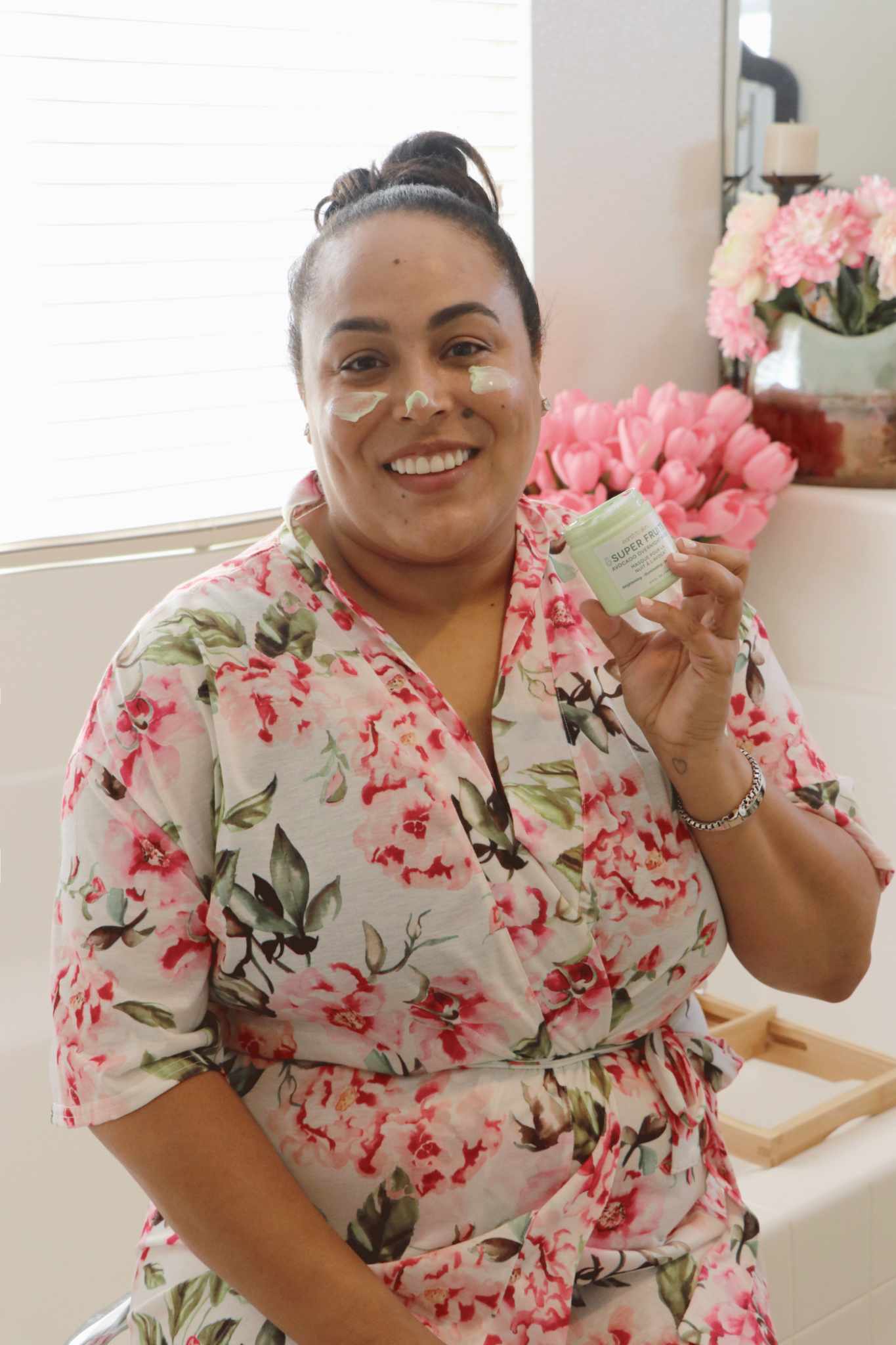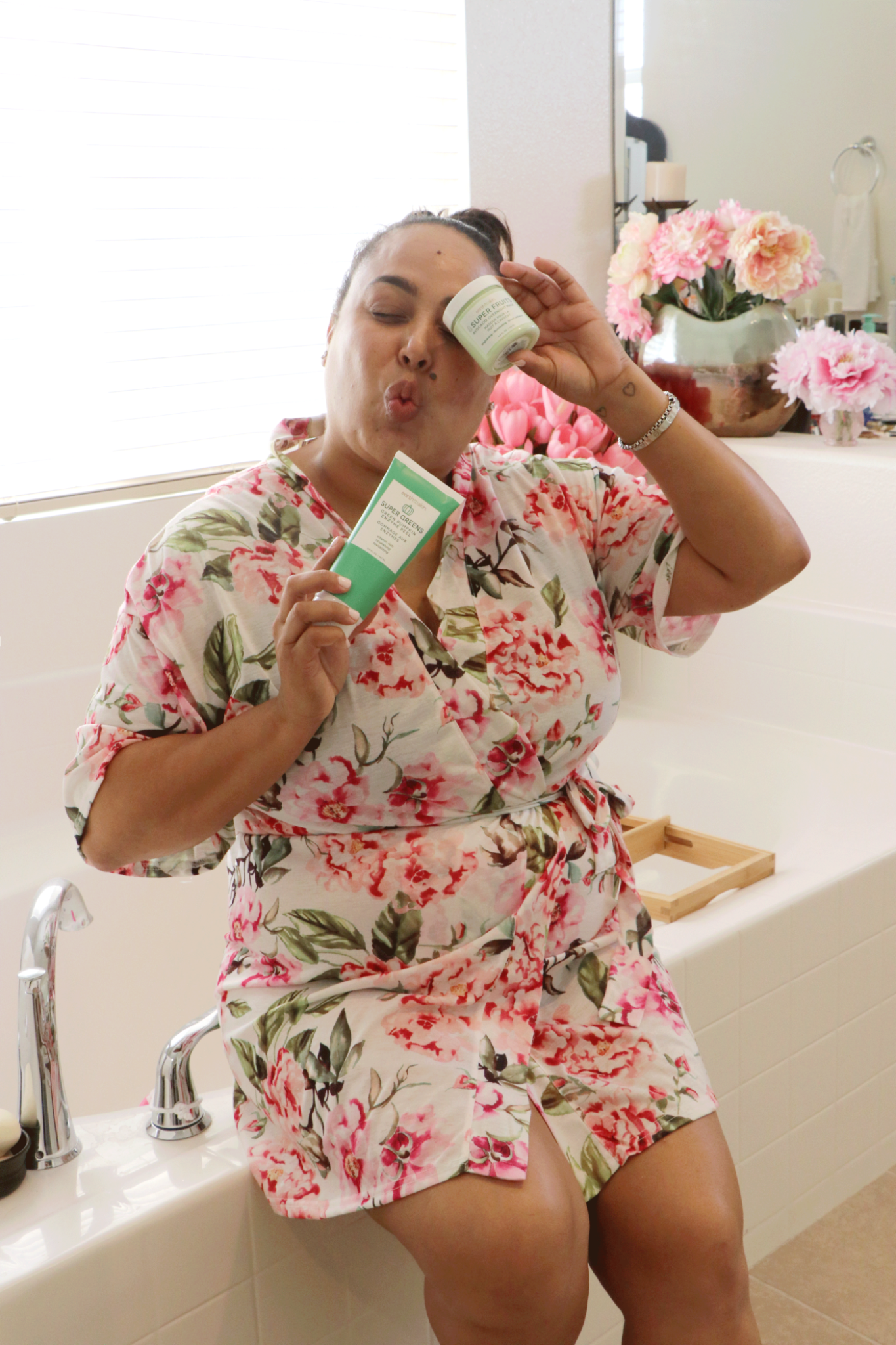 // WEEKLY EXTRA EXFOLIATION //
Last but not least, I am a firm believer that we all need a great exfoliation treatment at least once a week to help get rid of dead skin cells that the skin collects all week. So I recently started using the Earth to Skin Super Greens Green Pumpkin Enzyme Peel and OMG! You guys not only does this exfoliator have the most dreamy scent to it, but it is also packed full of enzymes and AHA's to help rid the skin of dead skin cells gently while retaining moisture. I use this once a week because I feel that it just gives me that extra boost I need to help ignite cellular turnover.
The quest for younger-looking skin has never been easier!!
SHOP THE PERFECT AFFORDABLE ANTI-AGING SKINCARE ROUTINE FOR FALL

So there you have it the perfect affordable anti-aging skincare routine that is not only effective but UNDER $100 and can be found at your local Walmart stores. Have you tried any of these products? If so, what are your thoughts? What are some of your affordable anti-aging skincare routine finds? Let me know in the comments below…
READ NOW, SAVE FOR LATER:

Affordable Anti-Aging Skincare Affordable Anti-Aging Skincare Routine Anti-Aging Skincare Routine
Editor's Notes
Today's post is sponsored by Walmart and Rewardstyle. As always, all thoughts and opinions are my own!
SHOP THE POST